Squeezed by the foreclosure crisis and booming Silicon Valley real estate, East Palo Alto confronts gentrification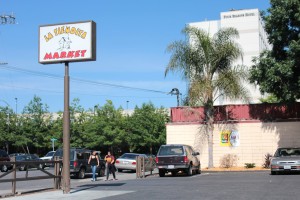 In a region proudly defined by its tech industry and a network of millionaire entrepreneurs, East Palo Alto has always been outside of the loop.
A few miles from the new Facebook campus and Stanford University, it's a place where homes can still be bought for low-six-figure sums, and you're as likely to hear Spanish as English while wandering the sunny suburban streets.
The city is a bastion of relative affordability for those in the trenches of Silicon Valley's economy. Median household income is $50,137, according to Census Bureau estimates — less than half of neighboring Palo Alto and Menlo Park, and well below the San Mateo County median of $87,633.
"We're a bedroom community for people providing services for all the cities around us," said the Rev. Lawrence C. Goode of St. Francis of Assisi, East Palo Alto's largest church.
But the city's unique position on the Peninsula is threatened by creeping gentrification. The signs have become increasingly obvious in recent years, as East Palo Alto is pushed at both ends by the devastating effects of the economic crisis and Silicon Valley's strong recovery. Read more >>>