State schools chief Tom Torlakson touts experience in tight re-election battle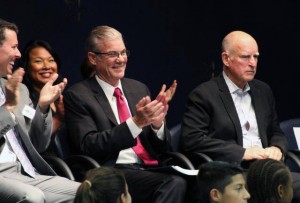 Gov. Jerry Brown was late, and the children in the audience were not the only ones growing restless.
In the back of the room, Paul Hefner, campaign manager for Superintendent of Public Instruction Tom Torlakson, paced nervously. After the appearance with Brown at San Jose's Katherine Smith Elementary School, Torlakson had a tight schedule to uphold: An interview with a journalist from Education Week, who had flown across country to cover his closely contested re-election race. Then, a drive down to Bakersfield for an evening town hall.
"27 days," Hefner said, ticking off another notch on his countdown to Election Day. "The Chilean miners were trapped for 69… If they had enough air, then we'll be fine."
Welcome to the intensifying battle for the state's top schools official, the hottest statewide race in California this fall.
It's an unusual development for the low-key office of state superintendent, a down-ballot, nonpartisan position that rarely inspires the fervor of voters, if they've even heard of it. Torlakson's predecessor, Jack O'Connell, quietly won a second term in 2006 when he garnered more than 50 percent of the primary vote.
But this year's race surfaces issues at the center of a national conflict over the direction of public education. Promising an overhaul to California's low-ranked school system, Marshall Tuck, a former schools executive from Los Angeles challenging Torlakson, galvanized support over a June court ruling declaring California's teacher tenure and dismissal laws unconstitutional. Read more >>>