Bill would allow underage winemakers to sip and spit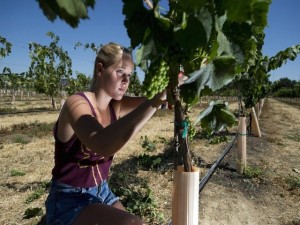 The family business brought Holly Reynolds from a grape farm in Kansas to the renowned viticulture and enology department at the University of California, Davis.
Since she decided in high school to follow her parents into winemaking, Reynolds knew she wanted to attend a program many consider "the best in the country, the best in the world."
Paying high out-of-state fees, however, she's planning to minimize her costs by finishing in three years – and that's put her in a predicament.
Reynolds won't turn 21 until April, just two months before she's to graduate. As a result, she's unable to partake in an essential part of her educational experience: wine tasting. It's a fundamental problem for students in California's winemaking and beer-brewing programs, which also include California State University, Fresno, Cal Poly San Luis Obispo and several community colleges.
As undergraduates, many are under the legal drinking age for most of their time in school and cannot participate in classroom or extracurricular tastings that would allow them to get a firsthand understanding of theory, develop their palates and network with industry representatives who visit campus.
"You have to be a bystander and listen to what other people have to say about" the wines, Reynolds said during a recent vineyard-management class. Under the beating June sun, she and fellow students pruned leaves from grapevines in a field outside UC Davis' Mondavi Institute for Wine and Food Sciences. Read more >>>